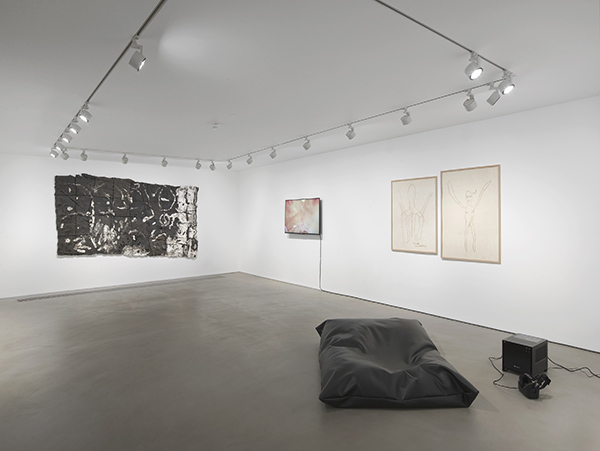 Sidsel Meineche Hansen, SECOND SEX WAR, 2016. Installation View. Commissioned by Gasworks. Courtesy the artist. Photo: Andy Keate.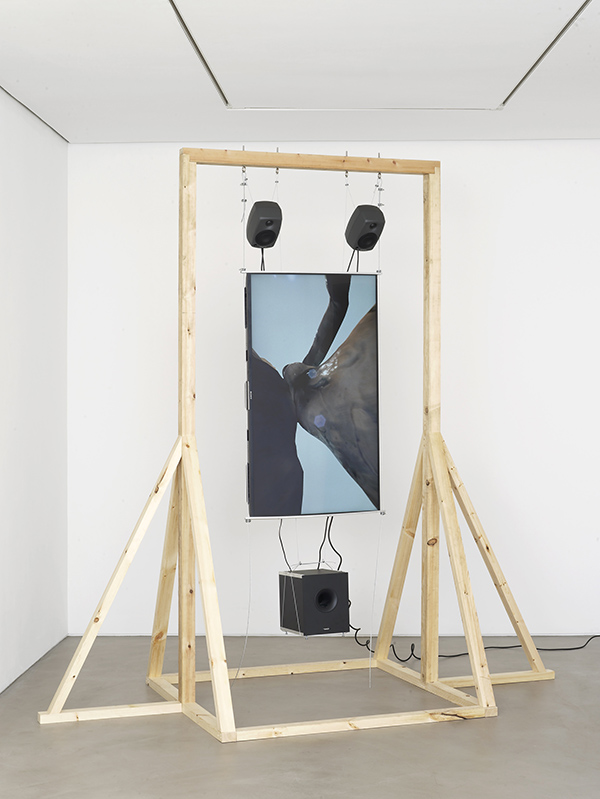 Sidsel Meineche Hansen, DICKGIRL 3D(X), 2016. CGI animation, HD video with sound, 3 min loop. DIY BDSM structure based on Bob Flanagan and Sheree Rose's 1991 installation, Bob Flanagan's Sick. 3D design and VR production: Werkflow Ltd. Soundtrack: Exotica by nkisi, 2016.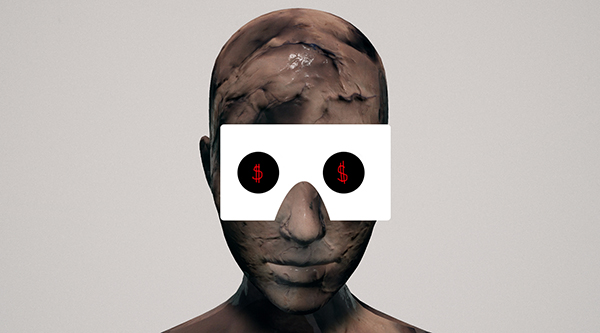 Commissioned by Gasworks in partnership with Trondheim kunstmuseum. Courtesy the artist. Photo: Andy Keate.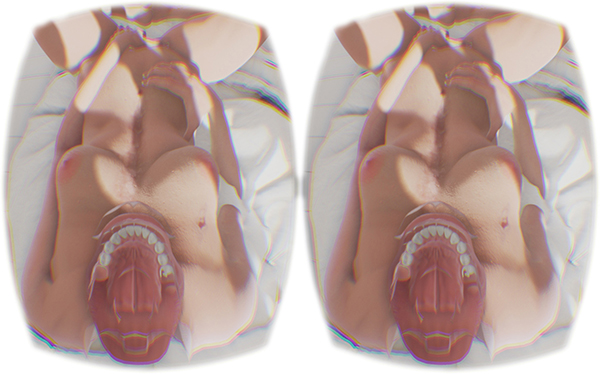 Sidsel Meineche Hansen, No right way 2 cum, 2015. Image credit: Werkflow, London.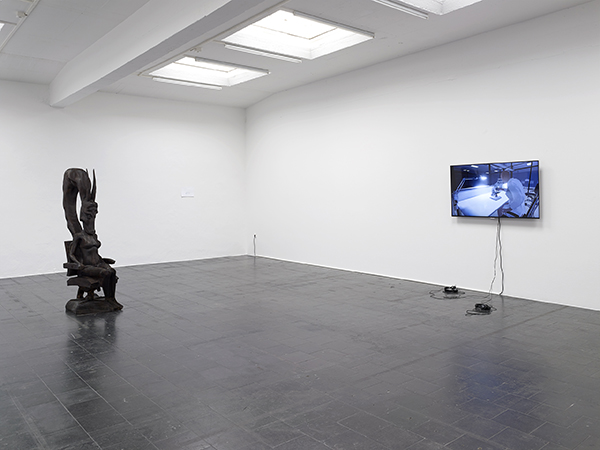 ONE-self, install, Temporary Gallery, Cologne. Sidsel Meineche Hansen, 2015.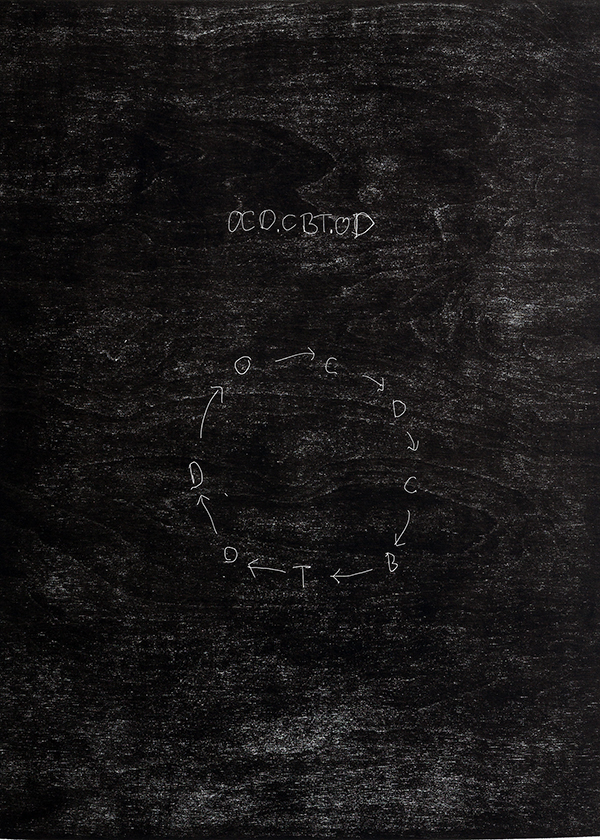 OCD.CBT.OD, Sidsel Meineche Hansen, 2014. Woodcut on paper.
Sidsel Meineche Hansen: SECOND SEX WAR
George Mind
Are you ready to become the new flesh?
-Videodrome, dir. by David Cronenberg, 1983
Confession: my first experience of sexual arousal came at a tender age, unexpectedly prompted by the aid of a kitschy beanbag. After school one day a friend and I, in giggling paroxysms, had been jumping on said beanbag, inevitably causing it to burst and explode squeaking polystyrene balls all over my bedroom. Shrieking in a kind of horrified delight, we tumbled into the wreckage. Something about our rolling on the spent sack, as it trickled its synthetic contents, stirred a very new and giddying pleasure.
Fifteen years later a beanbag is, again, a prop in very different, but similarly giddying, sexual experience. This time the beanbag is made of black vegan leather, located in a glassy contemporary art gallery. I am sprawled across it wearing an Oculus Rift headset, listening to pounding techno, inhabiting the slick body of an avatar and virtually fucking a tumoid mass with my iridescent blue, light-sabre-esque, cyber-dick. Welcome to The Future… Welcome to The New Flesh… Welcome to the SECOND SEX WAR ZONE.
Currently on display as part of artist Sidsel Meineche Hansen's solo exhibition at Gasworks, London, SECOND SEX WAR ZONE is a pornographic CGI animation, which appropriates 'genitalia props' and readymade 'pose sets', that are 'entered' via Oculus Rift and a gaming PC. The animation can be consumed, as a spectator - rather than participant - ten feet away from the ZONE in DICKGIRL 3D (X), presented on a flat screen TV suspended from a Bob-Flanagan-inspired, DIY BDSM structure.
The title of Meineche Hansen's show references the 'sex wars' of the 1982 Barnard Conference on Sexuality in New York, which opened an anti-pornography/anti-censorship rift in feminist discourse. Declaring a 'second' sex war, Meineche Hansen presents material that confronts the ethical and aesthetic issues arising from our increasingly sexualised and embodied relationships with technology. Her interventions come at a critical moment: the opening week of SECOND SEX WAR coincided with the democratisation of VR porn, as the free streaming site PornHub announced that they had partnered with virtual reality porn producer BaDoink to launch a VR category accessible via your smartphone and cardboard goggles. In 2015, trans-feminist collective Laboria Cuboniks published the Xenofeminist Manifesto, asking 'why is there so little explicit, organised effort to repurpose technologies for progressive gender political ends?' Laboria Cuboniks pioneers a feminism adapted to the realities of the ubiquitous technological mediation, abstraction, virtuality and complexity now conditioning our everyday lives: theirs is a 'politics for alienation.' SECOND SEX WAR speaks to such concerns, exploring inroads for a cyber-feminist position within the adult entertainment industry. Meineche Hansen, whose art practice is research led, frames it as a 'techno-somatic variant of institutional critique.'
The central object of Meineche Hansen's research into the commodification and gender politics of virtual bodies is EVA v3.0, an avatar purchased from a company that supplies stock 3D models for computer games and adult entertainment. Using the character EVA v3.0, the artist subverts mainstream pornography's norms of narrative, time-sequence and body-type. Within the virtual reality of SECOND SEX WAR ZONE, for example, time is looping, space is smooth and infinite, the performers relentless. In the ZONE, I look down, past heaving translucent breasts, at a glittering current surging through 'my' phallus as it lasers into a throbbing mass. Suddenly the view catapults and I watch as EVA v3.0 rides me, my amorphous form reflected in her mirrored eyes. The gaze is queered and I do not belong to either body; my subjectivity is free-floating, threading back and forth between partners, experiencing the fuck fluidly, as perspectives tumble and morph.
In No Right Way 2 Cum, another CGI animation featuring EVA v3.0, we are positioned between the character's legs, gazing into the immaculate pink diamond of her vulva being massaged by manicured fingers. The animation is a feminist revision of the 'cum shot' video of mainstream porn, developing a mesmerising visual vocabulary for the intricacy of female orgasm: nipples and clits are akin to kaleidoscopes, concertinaing, prisms releasing in rhythmic pulse.
However, throughout the animation I am uneasy, transfixed by a large scar on EVA v3.0's torso. Running from below her breasts across her stomach, it ruptures her alien-ness. Does this disfigurement refer to an injury sustained in another performance she has executed under the artist's direction? EVA v3.0, a piece of software, takes on the characteristics of 'wetware': flaws, personal history, the body's continuity through time, and – most disconcertingly – vulnerability. Where do we draw the parameters around personhood? The ethical tangles of post-human porn reverberate in this space, quite literally, as visitors are immersed in the hyper-sexualised protracted exhalations and ragged gasps of EVA v.30's performance in DICKGIRL 3D (X). These are simulated sounds of desire, but they are disturbingly warped, echoed and stretched, signalling a body in distress…
As someone with slight Luddite tendencies, the acceleration of our contemporary moment induces occasional waves of existential nausea. On entering the exhibition space at Gasworks, confronted with gyrating cyber-bodies, I became painfully aware of myself seeking traces, reassurances of actual, material bodies. I breathed a sigh of relief at the sight of a clay sculpture, puckered with fleshy lobes and nooks. It is the pressed and petrified face of the artist, titled Cite Werkflow. On the opposite end of the gallery is a large-scale ceramic relief, CULTURAL CAPITAL COOPERATIVE OBJECT#1 – a cooperatively owned artwork - in which footprints mark the rocklike surface. These sculptural pieces in SECOND SEX WAR uphold stasis whilst the animations project us forward; they have the disconcerting quality of futuristic relics of something long dead, something fossilised: the human, perhaps?
With some reassurance, it dawned on me that the nervousness I was experiencing had likely been intentionally cultivated by Meineche Hansen for the purposes of critique. The work is pervaded by a dual tension: experienced (and embraced) by the artist and latent in the spectator. The position of the artist, as we move toward a post-human, post-work future, is one of confusion. The hand of the artist is always at one remove in SECOND SEX WAR, as much of the work is produced by outsourced skilled digital labour. Even the seemingly 'primitive', immediate technique of woodcutting is complicated by works such as iSlave (non-dualistic) and Wannabe Dickgirl, which are drawn by the artist digitally and then burnt into plywood by a laser. Cite Werkflow, a cast of sorts, is a comment on the processes through which human bodies are scanned and digitised for online consumption. Yet this piece also reveals the desperation of the Contemporary Artist, who must resort to pressing their mark, their identity and authenticity (whatever that means), in a very literal and tangible way into their creations – the result being reminiscent of a death mask.
This ambivalence and anxiety becomes part of SECOND SEX WAR'S architecture, manifested in the abrasive rifts between media. The uneasy alignment of virtual and material in the exhibition space forces the viewer into pained elasticity, trying to stretch between registers to engage with each piece. The viewer must quickly recover from – or be forced to apply to the next piece – the stubborn residual affect of the previous object: from the timeless, earthy solidity of clay to the ever-evolving digital body. That said, there is a dialogue between aesthetic modes; in DICKGIRL 3D (X), EVA v3.0's 'skin' transforms from dazzling white to mottled, grafted, flayed flesh and her partner curiously resembles a lump of clay: a gesture to the impressed clay sculpture Cite Werkflow, displayed nearby. At the end of the loop, when the intercourse ceases, EVA v3.0, luminous and otherworldly, uses a scalpel to slice into the tissue-like surface of her partner's 'body'. There is something cruel about this incision into its grotesqueness, its fleshliness. In the surgical space of the art gallery, Meineche Hansen performs a similar procedure, catalysing and dissecting our anxieties about navigating an increasingly alienated and technologised world, in which virtual and human bodies intermingle.
Oculus Rift technology is radically employed in SECOND SEX WAR to carve out a cyber-feminist, queered space within the production of X-rated digital imagery. Yet it seems to me that the concept of 'rift', and its capacity to exploit and examine anxiety, can be understood as the show's underlying conceit: from the rift in anti porn/anti censorship debate in 1982 that is the show's theoretical springboard, to EVA v3.0's scar – insistent on her personhood, puncturing any fantasy of her hyper-sexualised invincibility – to the tearing of realities that occurs when you remove the VR headset and are delivered back into the suspended time and white-walled stasis of the art gallery.
www.gasworks.org.uk/exhibitions/sidsel-meineche-hansen-second-sex-war-2016-03-03

SECOND SEX WAR runs at Gasworks until 29 May 2016. The exhibition is commissioned by Gasworks in partnership with Trondheim kunstmuseum, where the exhibition will open on 12 June 2016.