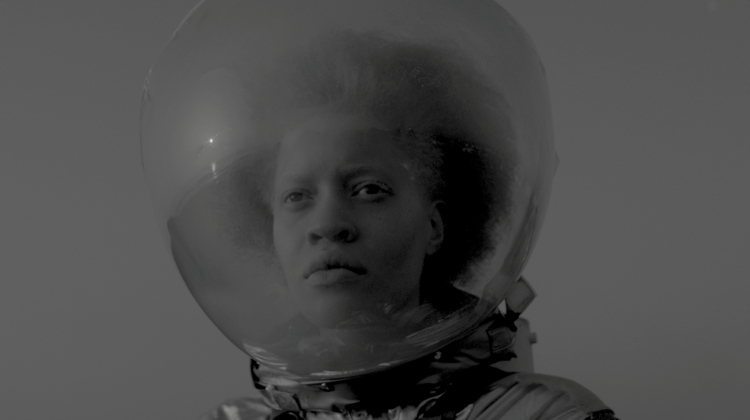 Afronauts, 2014, directed by Frances Bodomo, featured in the 'Ada & After: Women do Science [Fiction]' season at the ICA, November 2014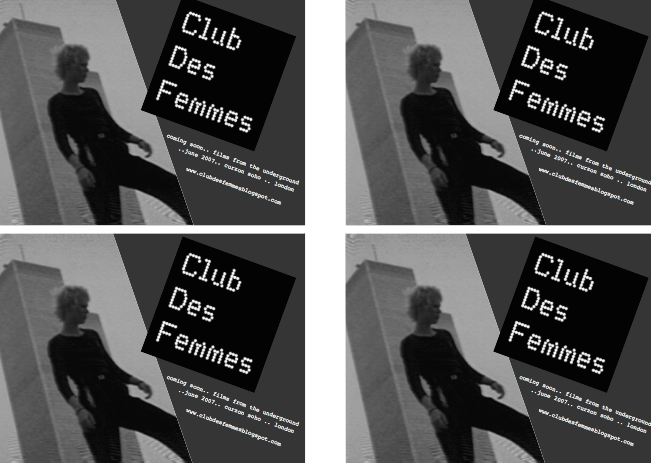 Club des Femmes 'Summer Camp for Girls' flyer, Curzon Soho, June 2007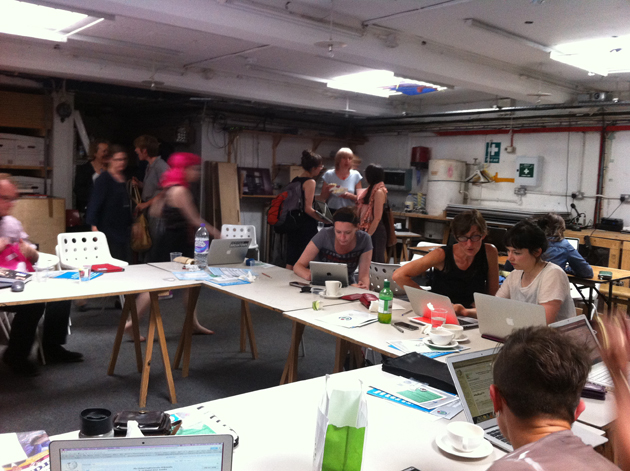 Club des Femmes 'She Must Be Wiki 'workshop at the ICA, August 2014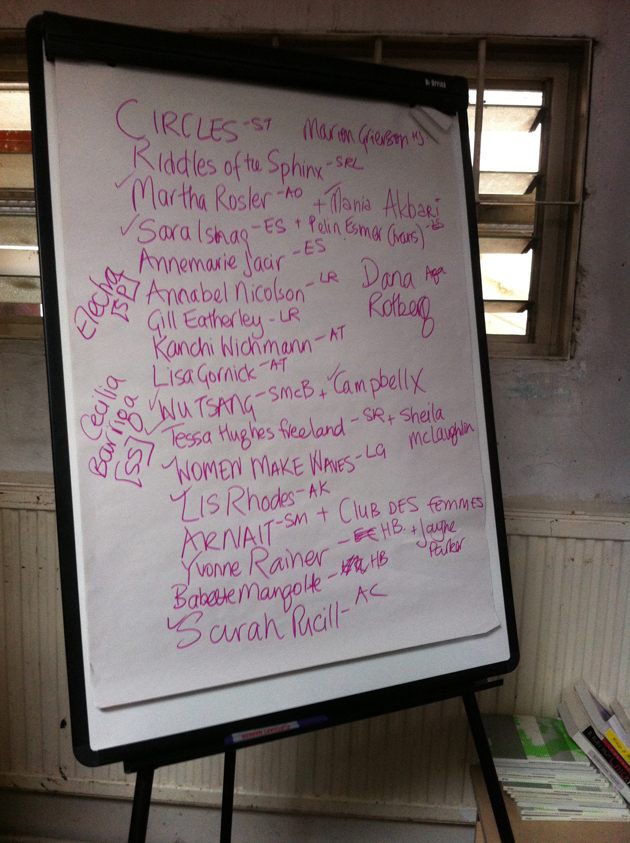 Club des Femmes 'She Must Be Wiki 'workshop at the ICA, August 2014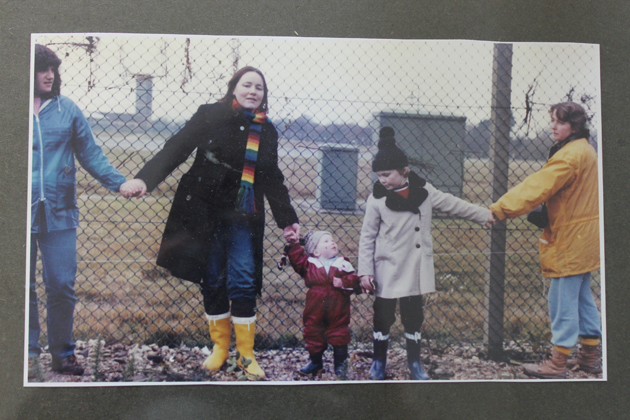 Carry Greenham Home, 1983,directed by Beeban Kidron, to be featured in 'The Time is Now' season, November 2015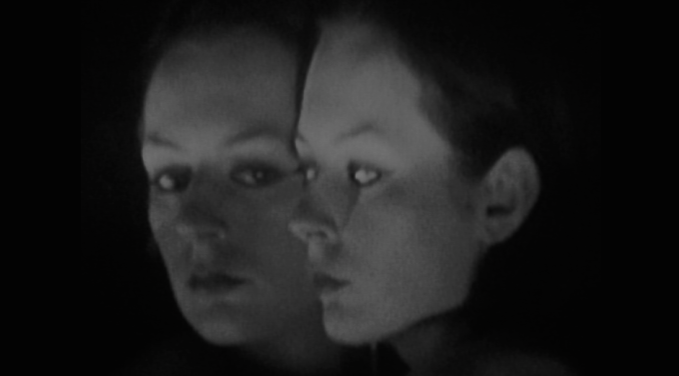 The Wound, 1984, directed by Jill Westwood, to be featured in the 'This is Now: Film and Video After Punk – Through A Glass, Darkly' at Fringe! Film Festival in November 2015
This is what we are doing - Club des Femmes LIVE
Selina Robertson
Born: 2007
Manifesto: We are a queer feminist collective. We curate film screenings and events. Our mission is to offer a freed up space for the re-examination of ideas through art.
Collective: Selina Robertson, Sarah Wood, Sophie Mayer, Alex Thiele and Campbell X
We (Sarah and Selina) decided to start Club des Femmes in 2007 inspired by our newly formed friendship and a growing conversation around the lack of year round experimental queer feminist film programming in London. At that time, apart from BFI Flare and a few festivals and organisations such as Cinenova, London Short Film Festival, LUX, who were and still are committed to exhibiting oppositional queer feminist cinema, we realised that there was no regular dedicated film space in London that supported radical feminist contextualisation. We dreamed of a chance to look beyond the mainstream.
In the early days, the opportunities we were afforded were down to a few supportive film programmers who gave us a platform. Verena von Stackleberg who was running the Public Programme events at the Curzon Soho offered us our first Club des Femmes weekender – we called it a 'Summer Camp for Girls', and we showed films by Lizzie Borden, Sadie Benning and Vivienne Dick. Our intention was to relive the spirit of punk by showing work by filmmakers who defined a new world order and gave women and girls back the power of Camp. We curated a programme of shorts investigating recent women's filmmaking, including work by Jayne Parker, Emma Hedditch and Margareta Kern. We even threw a party, which felt like an art action in itself.
How we work collectively and collaboratively has been an evolving process. Today, our collective has grown to five people. Altogether, we are filmmakers, curators, writers, academics, a poet, and an independent film producer. We draw strength and inspiration from 1970's Second Wave feminists with a commitment to the collective vs. individualism. In the current white heteronormative neoliberal climate of the re-privitisation of individual experiences (aka the engine room of current global art markets) our value is on discovering and celebrating intersectional feminist cinema and ideas, together.
Audiences, conditions of spectatorship, access, and activism continue to inform our curating practice. Last year, we hosted our first feminist wiki-a-thon at the ICA in partnership with the University of Kent. SHE MUST BE WIKI was a day of coding, exchanging knowledge on feminist film and film theory, and debating ideas around digitising feminist histories and archives. Wikipedia's gender trouble is well documented so we set out to re-address the startling lack of content online on experimental female filmmakers, QTPOC cinema, feminist film organisations and movements. Wikipedia has become a primary research source for students; we came together to increase the number of articles, reputable citations and standard of writing to curate our own histories on this very public forum.
As for future plans and imminent space travel, we will be journeying back in time to the 1980's for our next film programme. We are excited to be participating in the BFI funded The Time is Now – a season of women's rights and fights in film that will accompany the theatrical release of Suffragette (2015). Our focus will be the legacy of Greenham Common, the women-only campaign against nuclear weapons that has influenced artists and social movements since. Thirty years have passed since the height of the Greenham Common protests, but the impact of the women activists, and the interest in their campaign endures. We will be showing films by a number of British feminist filmmakers, Beeban Kidron, Tina Keane, Lis Rhodes to name a few.
We are staying in the 1980's for our collaboration with Fringe! in November, willfully moving underground to join clubbers, art students, new romantics and members of the post punk era whose work, largely on Super8, until now has mostly gone unseen. In partnership with LUX, we will be showcasing a specially curated programme and discussion focusing on post punk's most provocative female filmmakers. 'This is Now: Film and Video After Punk – Through A Glass, Darkly' explores ideas around female subjectivity and the gendered viewer. This film event continues our ongoing commitment to investigating, uncovering and critically thinking around London's culturally diverse queer feminist media histories. I hope you join us.